CRF Conference 2018 in Botswana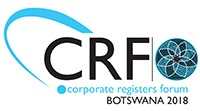 The 2018 Corporate Registers Forum conference was hosted by the Companies and Intellectual Property Authority (CIPA) of Botswana.
The 15th Annual Corporate Registers Forum (CRF) was held between 21-25 May 2018. The conference brought together over 145 participants representing corporate registrars from around 38 jurisdictions, including 11 African countries. It offered an opportunity to share ideas and best practice, and to discuss emerging registry issues.
The theme for the conference was "Corporate Registries – A Critical Vehicle for Global Economic Growth".